History of the Projects
Rural Digital Opportunity Fund (RDOF)
GigaBeam Networks has offered fixed wireless access to a large portion of Monroe County since 2005 and continue to do so today.
To enhance our coverage area and expand our service offering, we began looking at opportunities to build a fiber to the premise network throughout the county. The FCC RDOF program was introduced in the Fall of 2020. RDOF was a unique reverse auction style funding program to subsidize the buildout to hard to reach unserved areas throughout the nation. A large portion of Monroe County qualified for this funding opportunity and GigaBeam pursued and won the reverse auction for most of the eligible Monroe County areas. On December 15th, 2022, the FCC cleared our application for RDOF and we are finally ready to initiate the project. The RDOF project must be completed in 6 years and our goal is to finish it well before that deadline.
West Virginia GigReady Project
GigaBeam in partnership with Monroe County also were awarded funding to build a fiber to the premise network to an area in Monroe that was not included in RDOF. This project will cover the areas around the Green Valley Road area. This project is also under initial development and design and will be built along side the RDOF project.
The timeline below shows our prelimary plan for the projects. Being early in the project, times and details will change so check back often for updates!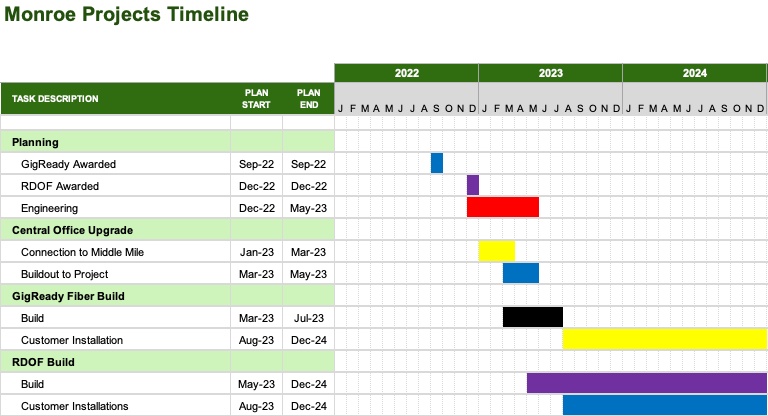 These projects will bring broadband access to the unserved areas of both Monroe counties.  The map below show the proposed/preliminary fiber paths.  As engineering completes, a more defined fiber path will be developed.
Signup Now!
There is much work to be done before service can be offered, but we strongly encourage anyone interested in getting serviced to sign up immediately. There is no obligation to sign-up!  This will help us develop our deployment strategy and plan and will also include you in a mailing list for updates on the project and service availability.  If you have any questions, feel free to contact us!